Face of Hate - At Least He's Not Wearing a Bomb Belt
Here's an article from tomorrow morning's Telegraph about Israel's re-opening of the Temple Mount, and the Muslims Who Still Can't Learn to Share, along with a photo of a child who's Being Carefully Taught.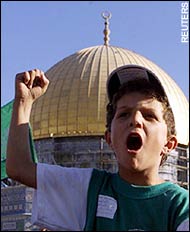 The Telegraph has been among the least anti-Israel British papers, but notice a couple of things about it:




"Police kicked and beat protesters" who were just praying? Sure, the kids were throwing rocks, but I doubt the Israeli police just starting beating prostate men.

Yasser Arafat didn't order anything closed. He has no authority there. Arafat ordered riots, effectively closing the site. Israel ordered it closed.

The current intifada started before Sharon's visit, with the murder of an Israeli policeman on a joint patrol with Palestinian police. Documents and detainees show it was planned well before Sharon's visit

The Jerusalem Post has been carrying articles for weeks about negotiations with the Waqf. They were consulted plenty, they just didn't want it re-opened, and hoped to drag things out

The Al Aqsa mosque is situated along the south wall of the Mount. It is black. The Dome of the Rock is in the middle. It is Gold.

I really expected the Telegraph to do better work than this.